Real cost of a garment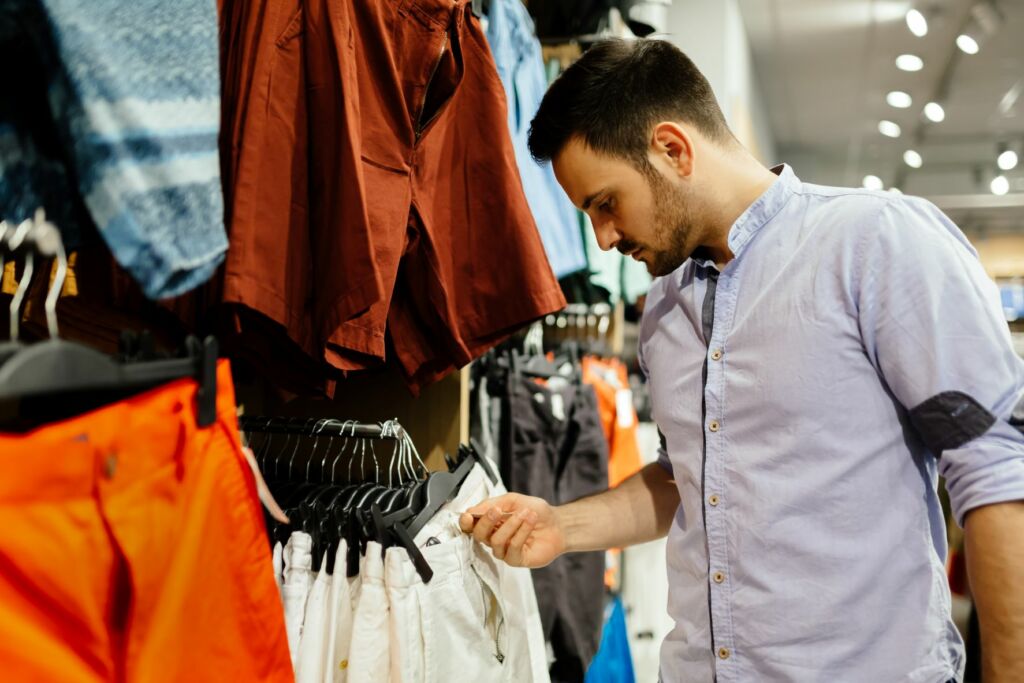 What does the price of the clothes consist of? Why can a similar shirt cost more in one store and considerably less in another? Consumers have a great responsibility and the opportunity to influence their purchase decisions, but how do you know what is the right choice. We wanted to find out the real value of the clothes, so that it would be easier for the consumer to know what the price differences are.
Production of a t-shirt: how much it costs vs how much it should cost
When comparing production costs of fast fashion type of t-shirt with cost of 10 euros and for example 59 euros t-shirt made in Finland, the differences in material and sewing costs alone are substantial. Material costs of 10 euros t-shirt in example case were 1,24 euros and sewing costs only 0,04 euros (Saramäki, 2014). Material costs of t-shirt made in Finland were 7,4 euros and costs of sewing and cutting 7 euros. The higher price of garment doesn't necessarily mean that the garment is produced responsible. Expensive brand clothing can be also produced with low costs and high environmental impact. (Vaittinen 2019.)
Low material and sewing costs of a 10 euros t-shirt can be reflected to wages of employees who have manufactured the garment. A large part of textile companies—fast fashion companies especially—doesn't pay the living wage for employees who have for example collected the cotton or manufactured the garment. Fast fashion companies often informs that they pay for employees the minimum wage but that isn't usually even close of a living wage in production country. In Bangladesh for example, where textile industry is one of most significant employers, minimum wage is less than 20 % of living wage. The use of child labour in production countries is also widespread and working conditions are often poor. (Karvonen 2022.)
How about if the price of garment is considered from an environmental point of view and used three different garment types as an example: a t-shirt, a pair of jeans, and a dress. Roos et al. (2015) explored environmental impacts of entire life cycle of these garments which contained for example emissions from the production, transport and use phase. For each garment were defined average number of uses which was used on life cycle assessment. When observing climate impacts of these garments, results of life cycle assessment were that GWP-impact (global warming potential) of a t-shirt made of cotton and used 22 times was 2,2 CO2 eq., a pair of jeans made of cotton and elastane and used 200 times was 10,5 kg CO2 eq. and a dress made of polyester and used 10 times was 17 kg CO2 eq.
Overall, the share of the clothing and textile industry of all greenhouse gas emissions caused by human activities is estimated to be between 4-10 %. In addition to massive greenhouse gas emissions textile industry uses huge amounts of water, other natural resources and land areas and causes discharges into water bodies. (Finnwatch 2022.)
How can consumer recognize responsibility?
Greenwashing is superficial environmental friendliness that does not extend deeper than advertising. Its purpose is to give the consumer an idea of the environmental friendliness of the product or service and to polish the company's reputation. (Joutsenmerkki 2021.)
According to a study by the EU and National Consumer Protection Authorities, in 2021, up to 42 % of the websites examined in the screening practiced marketing classified as greenwashing. Industries that were screened were, for example, clothing, cosmetics and household goods. (European commission 2021.) So the problem is not limited to clothes.
How can the consumer know what to trust in responsibility marketing? The often-given information about the product's responsibility is vague and selective. Certain colors or nature imagery could also be used to create the impression. It is good that companies invest in environmental friendliness even in small steps, but it is questionable to polish the company's reputation with a flattering detail. In the clothing industry, a good example of green washing is "responsible collections" by fast fashion chains. This one collection may be used disproportionately prominently in marketing, even if there is no attempt to change the rest of the business. (Eetti ry 2022.) The consumer's alarm bells should ring if, for example, by bringing clothes previously bought there or recycling, you get coupons for new clothes. So how can the consumer know what marketing can be trusted? Below are some tips:
Check the wording, because words like "responsibly", "ethically", "green" or "made with respect for the environment" may not mean anything.
Think about the whole: is the company's entire operation more responsible or just one product or collection?
Ask the company what the industry's pain points are from an environmental and human rights perspective and how the company has solved them.
Regarding clothing brands, you can check what, for example, Ränkkää brändi or Fashion Checker says about their responsibility.
The responsibility label is not a guarantee of responsibility. Ask the company what the sustainability label actually means.
Search the internet for company-independent information about the environmental and human rights impacts of the industry.
(Eetti ry 2022.)
Consumption habits and responsibility
We made a survey to explore what consumers think about responsibility of clothes and how it affects to their consumption habits and also that would they be willing to pay more for T-shirts produced responsibly and how much. We received a bit under 100 replies to the survey and the majority of respondents were students.
About half of the respondents said they were paying attention to the responsibility of the clothes they buy. One third were interested about responsibility but they either could not afford to buy responsibly produced clothing or the responsibility was difficult to understand. About 60 % of respondents thought so that they don't get enough information about responsibility of clothing production. 85% of respondents said they would buy up to five T-shirts a year and most common lifetime of a shirt at use was from one year to five years.  About 10% of respondents told wearing T-shirts less than one year and bit less than one third over five years.
Only about one fifth of the respondents valued the ethicality and environmental friendliness of the T-shirt among the three main factors affecting the purchase decision. The shirt's price and look were clearly the most common factors. Most commonly T-shirts were told to be purchased from online stores, second hand stores, flea markets and fast fashion stores. About one in ten respondents also told they were borrowing T-shirts. None of respondents told to use rental services for the purchase of t-shirts. Most commonly price of purchased T-shirts were 11–20 euros. About 40% of respondents said they usually pay that much for the new T-shirts. About one fifth of respondents told they usually buy T-shirts of less than 10 euros. Only about 7 per cent of respondents bought T-shirts worth over 30 euros. Most respondents, about 80 % would however, be willing to pay more of t-shirts produced responsibly, most commonly 5-20 euros more. More than that would be ready to pay about one fifth of respondents.
We also asked as a free form question, that what respondents think, what real price of a T-shirt should be. Most commonly replies were between 20 and 50 euros.  In verbal answers the emphasis was on, that the price of a T-shirt should be such that it would be sufficient for its manufacturers to receive fair payment and that the shirt has also been able to produce in an environmentally sustainable way.
The real value of the clothing and the purchasing habits of consumers intersect considerably. Consumers want easily, fast and cheap, but the flip side behind cheap clothes is not bright. There are many grievances in the textile industry, and that is why it is important to consider your own responsibility as a consumer. You can always influence with your legs and your wallet. However, responsible consumption can be difficult when there is not enough information about the production of clothes or it is misleading. That is why more transparency about the production of clothes and the environmental impact would be needed.
Pekka Kononen, Viivi Salomaja & Ella Rapo
Students at Turku University of Applied Sciences,
Circular business models research group
Sources: 
Eetti ry, mukaillen 3/2022. Opas vastuullisempaan kaupalliseen yhteistyöhön. Cited 21.10.2022
European Comission, 28.1.2021. EU. Screening of websites for 'greenwashing': half of green claims lack evidence. Cited 21.10.2022 
Finnwatch. Mitä pikamuodin jälkeen? Oikeudenmukainen ekologinen siirtymä vaate- ja tekstiiliteollisuudessa. 2022. Cited 25.10.2022.
Joutsenmerkki, 14.10.2021. Viherpesua vai ympäristövastuuta? Cited 21.10.2022 
Karvonen, M. Why fast fashion industry is a problem. 2022. Cited 25.10.2022
Roos, S. Sandin, G. Zamani, B. Peters, G. Environmental assessment of Swedish fashion consumption. Five garments – sustainable futures. 2015. Cited 25.10.2022
Saramäki, R., 2014. Hyvän Mielen Vaatekaappi.
Vaittinen, H. Halpuuteen nojaava pikamuoti valtaa alaa, mutta mistä vaatteiden hinta todellisuudessa koostuu? – Asiantuntija: "Jos tuote maksaa muutaman euron, vaatteen tekijä ei ole saanut reilua korvausta". 2019. Cited 25.10.2022