Textile Circular Economy networking event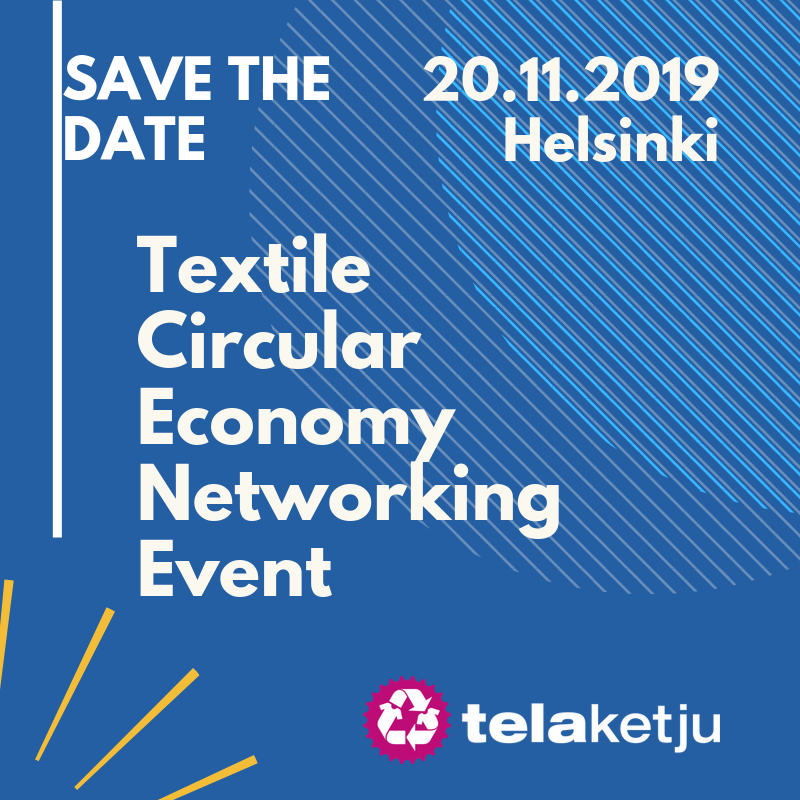 Join us to find out about the textile sector's best circular economy solutions, and discover new business partnerships to tackle the sustainability challenges at the Textile Circular Economy networking event on 20th November in Helsinki.
Date and time: 20th November 2019 at 10.00–16.00
Venue: Helsinki (detailed information will be shared for participants)
Fee: Event is free of charge. Please note that for cancellations after 10th November we charge 50 euros no-show fee to cover the costs.
Registration: Registeration period for event has passed. Event is full.
The purpose of this event is to accelerate co-operation between Baltic Sea region players around circularity activities of the textile industry. We are eager to link the Nordic and Baltic countries of the field. The spotlight is on companies that will present their plans and solutions, and invitations for co-operation to enhance the circularity activities.
We warmly welcome to the event all the companies and organisations involved in textile circulation and recycling.
All participants are also welcome to bring posters and/or reserve a tabletop for brochures & leaflets and other materials. Please tell us about your interest to bring materials on the registration form.
The event is organized within the Telaketju project by Finnish Textile & Fashion. Due to limited seats company enrolments will be prioritised.
Please note that there is also possibility to visit VTT Tampere Polymer Pilot and Cylindrical extruder (Modix) on 21th November. More information and registration for the visit here.
PRELIMINARY PROGRAM
9.30 Coffee and registration
10.00 Session 1: Textile Circular Economy in Finland
Welcome words
Satumaija Mäki, Sustainability & Circular Economy Advisor, Finnish Textile & Fashion
Presentation of Telaketju-project
Pirjo Heikkilä, Senior Scientist & Project Manager, VTT
Case Lounais-Suomen Jätehuolto: Public waste management as a platform for circularity of textiles
Jaakko Zitting, Project Engineer, Lounais-Suomen Jätehuolto
Up-cycle business models
Ali Harlin, Research Professor, VTT
Case Pure Waste: From Pre-Consumer to Post-Consumer
Noora Alhainen, Pure Waste Textiles
Pitching of Finnish Solutions (TBC)
Materiaalitori – Platform to exchange of waste and side streams
Paula Eskola, Senior Expert, Motiva
Case My Clothable
Tom Dahlström, CEO, My Clothable
Case Lindström: Partner up with textile service company
Inari Laveri, Product Specialist, Lindström
12.00 Lunch break and networking
13.00 Session 2: Textile Circular Economy in Baltic sea region
Nordic-Baltic project presentation
Kristiina Martin, Circular economy expert, SEI
SIPTex – A unique full scale automated textile sorting facility
Ambjörn Lätt, Project Manager, Swedish Environmental Research Institute
Pitching of Baltic Sea region companies and other projects
Case So Energy
Elena Tuomikoski, SoEnergy
Finix-project
Essi Karell, Doctoral Candidate, Aalto University
Cradle to Cradle – Multi attribute certification for safe products suitable for Circular Economy
Ida Urmas, Circular Design Consultant, Ethica Oy
14.30 Session 3: Future actions
EU Textile Strategy & regulation
Mauro Scalia, Sustainability Director, Euratex
Separate Collection of Textiles – What, When, Why and What else?
Sarianne Tikkanen, Senior Specialist on Circular Economy, Ministry of the Environment
15.30 Wrap up and networking
More information: please contact Satumaija Mäki (satumaija.maki@stjm.fi).