Textile Circular Economy networking event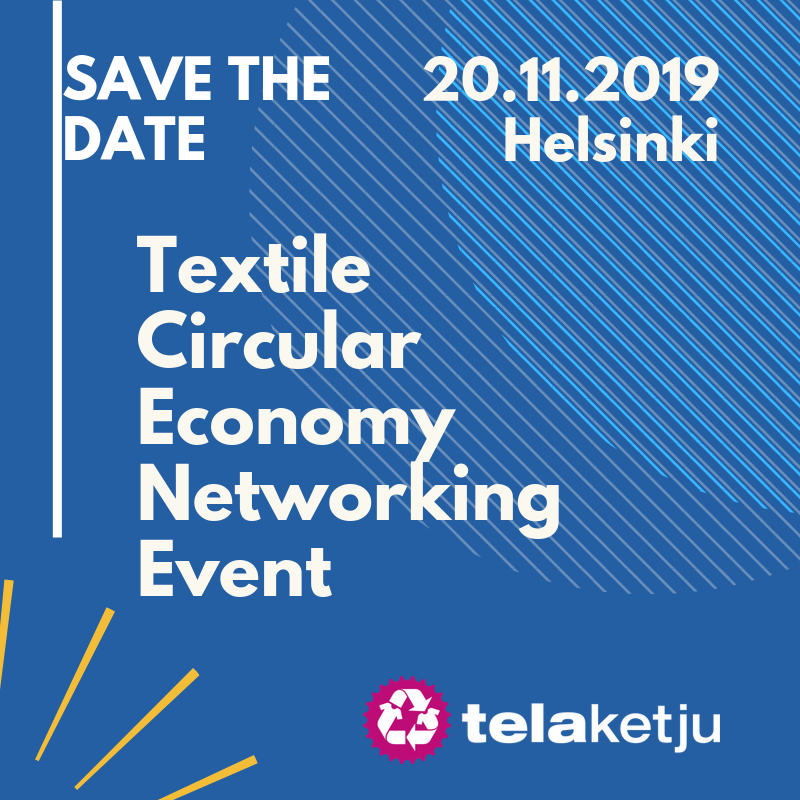 Join us to find out about the textile sector's best circular economy solutions, and discover new business partnerships to tackle the sustainability challenges at the Textile Circular Economy networking event on 20th November in Helsinki.
Date and time: 20th November 2019 at 10.00–16.00
Venue: Helsinki (detailed information will be shared for participants)
Fee: Event is free of charge. Please note that for cancellations after 10th November we charge 50 euros no-show fee to cover the costs.
Registration: Via this link. The deadline for registration is 10th November.
The purpose of this event is to accelerate co-operation between Baltic Sea region players around circularity activities of the textile industry. We are eager to link the Nordic and Baltic countries of the field. The spotlight is on companies that will present their plans and solutions, and invitations for co-operation to enhance the circularity activities. Detailed program will be published during the October.
We warmly welcome to the event all the companies and organisations involved in textile circulation and recycling.
All participants are also welcome to bring posters and/or reserve a tabletop for brochures & leaflets and other materials. Please tell us about your interest to bring materials on the registration form.
The event is organized within the Telaketju project by Finnish Textile & Fashion. Due to limited seats company enrolments will be prioritised.
More information: please contact Satumaija Mäki (satumaija.maki@stjm.fi).